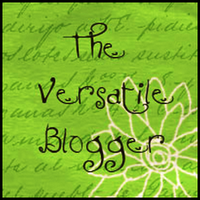 We feel truly honored to be nominated for The Versatile Blogger Award.  Seriously, we just started this blog last month as a creative outlet and way to share our recipes.
So, thank you, Lose Weight By Eating. It really means a lot to use!
And, while I'm at it, What To Cook? apparently nominated us for a 7×7 award, and we just missed the comment until now! So, we'll include that here as well!
Thank you guys so much!!!
Anyway, here are the rules:
* Thank the person(s) who nominated you and link back to them
* Share 7 things about yourself
* Nominate 15 bloggers you admire
* Contact your nominees and let them know
Since there are two of us, we decided to split the 7 facts between us.  Here's what we came up with:
1. Pami – The smell of cucumbers makes my stomach upset.
2. Jecca – I've overcome a lot of health issues, including open heart surgery. I don't consider these to be weaknesses; I consider them things that make me stronger and the person I am today.
3. Pami – I've been '16 and pregnant.' Sometimes some of the comments people make about the girls on that show and Teen Mom hurt. I like to believe I turned out ok, 12 years later
It still hurts when people stereotype all teen mothers as these horrible people that really don't care about their children.
4. We both keep online Journals, and that is actually how we met back in 2009.
5. Jecca – The first thing I remember cooking as a kid was this concoction of bbq sauce and ketchup that I would pour all over french fries. No one else ever seemed to like it, but I thought it was amazing.
6. Pami – I'm secretly a really picky eater. Most things I don't eat aren't because of the flavor. I have mental and texture issues with certain foods. I'm trying to open up more, but meh. I like to believe I eat enough things as it is.
7. Jecca- When I cook, nine times out of ten I have music playing in the back ground. It helps me be more creative.
And…. our nominations (guys, I don't want you to be forced to do this if you don't want to. I hate being pushy!) But! I really encourage everyone to check out each of these blogs! They're awesome! Not all are cooking blogs, but whatevs

That should about cover it.
Want us to link you? Leave a comment and we'll add you to the list!
Now to notify all the nominations